A Gentle Approach to Food and Your Body
Through classes and support groups, Rivka teaches you how to:
"This class was a turning point in my life. I finally feel like I have a sane and lasting way to cope with my food addiction."



-Former Have Your Cake student
Recover your natural, healthy relationship to food
Stop depriving yourself of the foods you love
Eat mindfully
Break the cycle of emotional eating
Develop a healthy body image
Practice self-care
Cultivate self-compassion
10-week program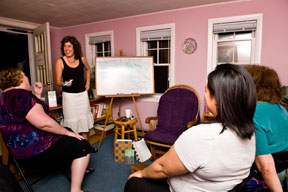 Location: Cambridge Center for Adult Ed, Cambridge
Meets: 10 Wednesdays 7:15-9:15pm
Starts: April 4, 2018
To register: Contact The Cambridge Center for Adult Education
When we turn to food but are not physically hungry, we are indeed hungry, but not for food. Instead, we hunger for self-care, compassion, emotional, and spiritual nourishment. In this class for women, learn how to nourish yourself when food is not what you truly need. Develop healthy, effective ways to work with emotions so that you no longer manage your feelings by eating. Normalize your relationship to food by eating intuitively, mindfully enjoying the foods you love. Cultivate a positive body image and return to a weight that is natural for you.
Have Your Cake and Eat It Too! is open to women ages 18 and older who struggle with:
Emotional eating
Compulsive eating
Chronic dieting
Restrictive eating
Negative body image
Have Your Cake classes also can be customized for adolescents, men, and community groups.
Have Your Cake Support Groups
Three support groups available.
Meetings are
every other week
on Tues evenings
6 month commitment
Location: Medford, MA, next to Tufts University
To register: call Rivka at 339-225-0083
New spaces open up in April 2018

The Have Your Cake Support Groups are designed for people already working with a non-diet approach to food and body image or for people who have taken the 10-week Have Your Cake program. These groups are designed for people to continue exploring and improving their relationship to food and body image and who want ongoing support. Limited to 6.
Groups include:
meditation
exercises created to make peace with food and body
readings
time for sharing and feedback
gentle movement
personal goal setting
Are You Ready?
New support groups form twice a year
Save
Save
Save
Save
Save
Save
Save
Save