I have freed myself from the binds of dieting, compulsive overeating, and body hatred, and I want to help others gain this same freedom. It is possible to live freely in a world of food that we love and to respect and nurture our bodies and ourselves each and every day.
-Rivka Simmons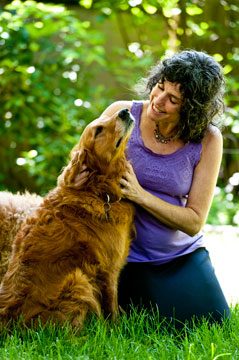 Rivka Simmons is an experienced psychotherapist and educator specializing in issues with food, body image, and self-esteem.

She has been teaching and counseling in the Greater Boston area for over a decade. In 1999, she founded the non-diet program Have Your Cake and Eat It Too! A Gentle Approach to Food, Your Body and Yourself, which has helped hundreds of people develop a better relationship with food, their bodies, and themselves. She has been on the faculty of the Cambridge Center for Adult Education since 2000.

Rivka is a member of the Massachusetts Eating Disorder Association and associated with the Internal Family Systems Center for Self-Leadership. She was a founding member of the Greater Boston Collaborative for Body Image and Eating Disorders. She created and co-hosted the local cable show "Living a Diet-Free Life" and wrote an advice column, "A Gentle Approach to Food and Your Body," for Boston-area newspapers.

Her spoken word recording Creating Calm in Your Life provides simple meditations for busy people seeking an easy way to incorporate meditation and relaxation into their lives.

She is working on a book based on the Have Your Cake and Eat It, Too program.

She and her husband are long-time Medford, Massachusetts residents. They love dogs.